There are a few things that makes the Kiwis, Kiwis. One of them being camping. As we discovered last year, the Kiwi camping is not quite how we camp in Malaysia.
Instead of pitching and breaking camp every few days like we did last year, we decided to go to one campsite and spend most of our time at one location. We chose a campsite by the sea in the
Bay of Plenty
at
Ohope Beach
. What attracted us to this site was the amount of activities they had for kids during the Christmas - New Year holidays.
It was a 6 hour drive from Paraparaumu and we headed off with the Odessey all packed to the brim at half past five in the morning. We reached the campsite as my trusted GPS said we will, at 11.18 am. We got a site perched on a hill over looking the sea. Beach front property! Prime Real Estate! What a way to holiday!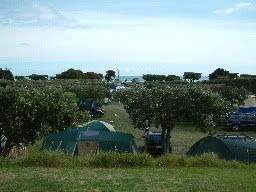 When we arrived on the December 23 half the campsite was empty. There were tents scattered all over. Then the exodus began on Boxing Day. There were endless flow of campers, trailers, campervans, caravans of all makes and sizes and soon by evening, the whole campsite looked like some third world refugee camp!
The campground owners had lined up all sorts of activities for kids starting from scavenger hunts to talent shows and even water slides.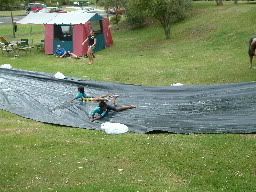 Ashwini took part in the talent quest. Although being the youngest to take part, she did not win anything as the others were well prepared for it and were a lot better. Here is a video of her performance. Not sure how it will turn out in a blog.
After a few days at the camp everyone made friends including the kids. We adults found out we were camping next to an older couple who were also from Paraparaumu.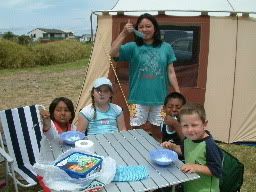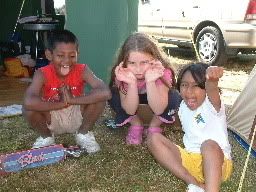 Here is the other Kiwi tradition. What would a camping trip be without some Barbeque?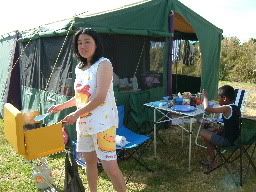 And barbeques are definitely men's territory! Here's proof!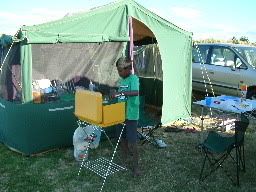 Of course women can multi task which men can't. Ashwini seen here riding her scooter, eating breakfast and clinging onto her new underwater camera!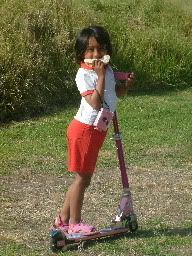 Just before leaving, we just booked for another stay at Ohope for next Christmas at a choice sea view section. We were advised to book latest by March if we wanted a slice of this view.
Happy New Year everyone!