On New Year's day we began our camping expedition.
All excited, we started our journey north to the River City, Wanganui.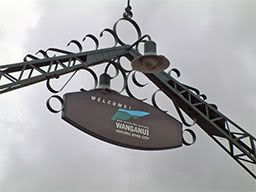 We brought with us a 6 man tent that we used in Malaysia. Since there were only 4 of us, we thought that was more than sufficient to house all of us. We also thought that a tent was a tent in any language meaning one used in Malaysia would be just as good used in New Zealand. So we arrived at out first campsite.
No drama there! No bridges to cross or rivers to cross that my Honda could not handle. When we pitched the tent, it was all calm and sunny.
The following day, the weather took a turn and gale winds developed reaching 140 kmph. Our dear old tent was taking a beating. At one point, the tent was at a 45 degree angle. I seriously had doubts about where we might be sleeping that night. By the next day, part of it started to give way. By the third day, parts of our tent started to disappear and part of the front was missing the pegs. That is when we realised that we had to get something else.
Some of our "neighbours" still had their tents in tact standing and some did not even move in the wind. They used canvas tents and they were rock solid.
The fate of our tent...