After 2 nights in Waitomo, it was time to head for creature comforts in Auckland.
Along the way, I saw this long bath right in the middle of no where!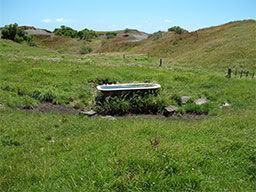 We had communal showers while we were camping but an outdoor bath like the one above gave the word communal bath a whole new meaning. And later as I was walking back to the car, I saw a cemetary next door. Guess who uses the bath?
Just before we reached Auckland, we stopped for lunch, Kiwi style at a park in Hamilton.