We still have 4 more nights before reaching Auckland so we still needed a tent. At that time all the cabins were full. We headed off to The Warehouse for tent hunting and got this new Kiwi tent but made in China. For $290, we thought it had to be good, if not better than our previous tent.
Next stop, Onaero Bay in New Plymouth. What a beautiful campsite that was! And what a spacious tent we have.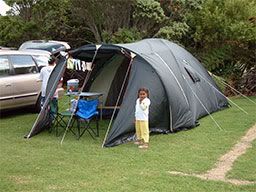 This is the campsite where the river met the sea and it was absolutely beautiful and the playground was a child's dream.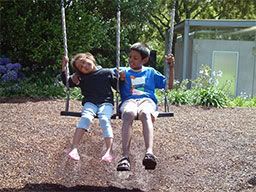 We were amazed at how some of the Kiwi tents looked like and what some of them had in their tents. Some had refridgerators, microwave ovens and some even TV's. The
lanun
camping we had in Malaysia looked like child play.
This tent, however, had other problems. It held the wind which started to slow down quite a bit since Wanganui. This time it rained more and the tent started to leak. The last night we had to put a raincoat over the tent to keep the water out.
Since it was only 4 days old, we decided to take it back to The Warehouse. Told them the tent was defective and they gladly refunded the full purchase price and even offered a 20% discount on another tent, which we politely turned down.