We went chilli picking last weekend and had a ball of a time picking all sorts of chilli. There were about 12 different varieties of chilli from the real huge, humongous ones to the small miniature "chilli padi" variety.
From the variety also, you will find the variance from the real mild ones to the fiery variety. There were ones that even our kids who don't take chilli can consume without any problems and there were ones that even the chilli king himself have trouble eating!
Here are some of the variety we picked. Note the varying sizes!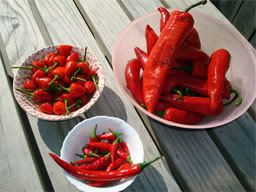 The ones on the left are known as "fire crackers" and these are mind blowingly HOT although they don't look potent enough! The bowl at the bottom of the photo was picked from our own garden. The small variety in that bowl is the Malaysian "chilli padi" variety, locally (as in New Zealand) known as "super chillies". The single long one on that bowl is known as "banana chilli", not that hot as us chilli eating folks would call reasonably hot. The bowl on the right contains two variety. This one clearly shows the two variety.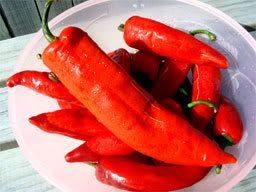 The giant ones are known as "Carazon Chilli" and the slightly smaller than the giant ones are "Mexican Chillies". The carazon ones are just red and juicy but not hot at all. The mexican variety are medium hot.
Now, just to show how big this chilli is, I took a photo with a teaspoon next to it for perspective. And I didn't even pick the largest that I could find.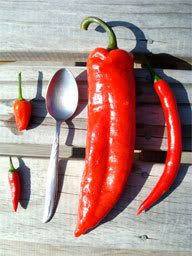 All this went into a wok this evening and out came a deliciously tantalizing super extra hot sambal ikan bilis (also known as anchovies chilli paste).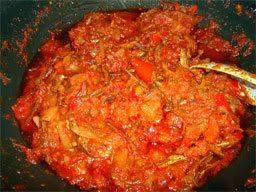 And onto the plate as a condiment to the Malaysian unofficial national dish, "Nasi Lemak". Of course this has a Kiwi twist to it, cashew nuts and cherry tomatoes picked from our garden.