While I have been quiet the last two months, our lives were far from hushed. Since the last post, we sold our house in Tawa, packed and moved up north to Paraparaumu. Below is a picture of our new house.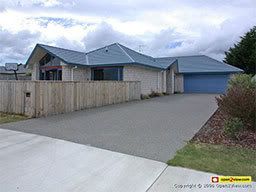 Paraparaumu is a nice little suburb up north of Wellington. While it is part of the greater Wellington region, it is not part of Wellington city. So, some of my friends say we now live in the country. Which is in a way not entirely untrue. The place where we live used to be farmland just 2 years ago and now has been developed into residential living.
There are still lots of farmland scattered around where we live. it is kinda nice living in a sort of a small town with a rural feel to it. For starters it is far far away. The ride to the city, where I work, takes close to an hour on a good day by train. Can you imagine what it would be like on a bad day? I took a taxi to the airport the other day and it cost me $192 one way and the airfare to Auckland from Wellington is only $140! So go figure!
The journey to the city is quite picturesque travelling past lush farm land and the rugged coast. October being the lambing season, the journey is dotted with white little lambs running after its mother in the mornings. They are quite relaxing to see. Then there is the fantastic coast line the train crosses. It climbs up a steep hill and from the train window the South Island can be seen among the morning mist. And on the return journey, a postcard perfect sun set awaits!
I will one of these days post a picture of the sceneries along the way.
Is it a surprise that Vera calls me a "Modern day nomad"? We have moved 9 times in the last 11 years we have been married! Is that a record or is that a record?