This morning right after my alarm clock rang me awake at 5.30am, there was another kind of alarm! An earthquake! Yes another one. Usually at this hour of the day, quakes are not as a result of the earth's seismic activity but the rumble of Vera's washing machine. I knew this time it was not my clothes rocking the earth as Vera has not yet started playing with the "big girls" toys.
This must have been quite a shocker as the house did wobble a wee bit for a few seconds. We later found out that it took place 50km North-West of Wellington out in the sea and measured 5.0 on the Richter scale. The star in the picture below shows where it took place. See the proximity to Wellington!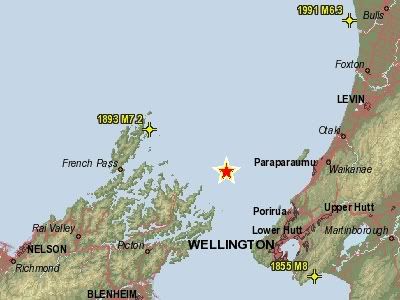 The last time we went through this, we went out and looked if anybody was evacuating and checked if the kids were alright. But this one was quite different. We lay in bed, as though nothing happened. I asked Vera "was that an earthquake?" and she calmly responded "yes, it was". After about ten minutes, we went to check if anything was amiss and apart from some figurines having moved from their original place on the display cabinet (probably out of shock), nothing was out of the ordinary.
Then I sat there thinking, if this was indeed a major earthquake, what would we have done? Then again, thinking how we reacted this time and how we did the last time, we knew we were getting used to being in New Zealand. Or becoming one!
But the fact of the matter remains! What would we do if it was a real serious quake?