We planted an apple tree 5 months ago in our yard and the first bunch of apples are ripe for harvest. The tree we planted have two variety of apples, braeburn and royal gala.
These are the first and we have no idea which variety these are but they are simply great! Not too sweet yet. We were told that it takes a lot longer than 5 months.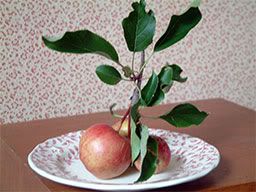 There are a few more on the tree and we are hoping those will taste a lot sweeter.