Who would have guessed that Ashwini would be appear in a New Zealand widely read newspaper? But she did!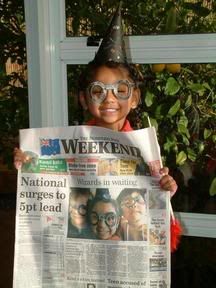 She was at a local library in Tawa, yesterday, listening to Harry Porter stories recited (this is done twice a week, every week - just this school holidays it was Harry Porter books). And apparently she was the "cutest" of the younger kids there! So the local Dominion Post took her aside and took some pictures and asked her some questions! And….she appears on today's edition! Front page some more!!!
A few weeks back, we were in Mitre 10 one weekend and this guys walks to us and said…"we are celebrating Porirua City's 40th anniversary next month and I am looking for people born in each of the 40 years to talk about their life here. So, was wondering if you would allow your son to take part in this programme". That was really nice but too bad we couldn't participate. One, Anil was not born in New Zealand and two, we don't live in Porirua.
This is the one thing I like most about this country. The people here don't see what colour your skin is or what ethnic group you belong to. They see you as you are! Plain and simple. Which is so different from where we come from!
When I first started work here in Wellington, every non Caucasian I meet, I would be curious to find our where they came from, but no one was interested to find out if I just arrived or have been in this country for 40 years! It made no difference to anyone. Wherever I went, I was treated as another Kiwi (although I am not).