It felt like Santa just arrived! Our container was released today and all our stuff came home. Santa did not arrive riding a snow sled but this 20 foot truck!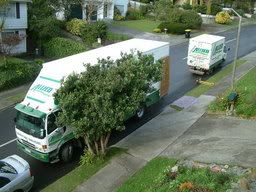 164 boxes of all shapes, sizes and weight! There were 4 guys moving the stuff and was cursing the weight of the stuff all the way. One of them said there should be a weight limit for the stuff they pack at the other end. One of the boxes said "soft toys" but it was so heavy which made him comment that probably the soft toys were filled with sand!
Now the whole house is filled with boxes!