Just when we knew we were getting our stuff, we saw this lovely house nestled in the hills overlooking valley, we were interested in! It had everything we were wanting and at a price that was at the tip of affordability. Actually one more dollar and I would have been forced to take up another job!
The process here in NZ is quite different. If we were interested, we had to make an offer in writing (the seller doesn't say how much - you will need to use your best guestimate) through their lawyers. We being green horns as we are, offered them a price below the market value. Then they counter offered with a price which if we took, we would have to sell all the stuff that just arrived.
This process of negotiation went on for a week or so, back and forth, all in writing where we striked out the price they put and re-wrote a new price, and they did the same. During this time, we were not allowed to speak to them directly. Finally at the end of the week, the negotiation ended and we agreed on a price that would not make us bankrupt and them still having cash at the end of the deal. This process ended today at 5pm.
And this is the home we fell in love with!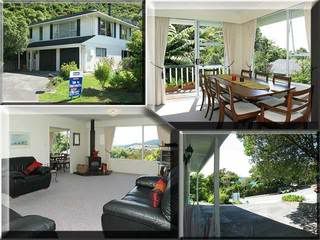 This is the view from the living area.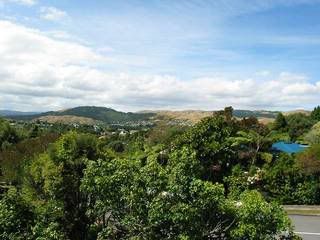 Vera went to the local council to check the title and council approvals. She was shocked to find that it reminded her so much of a Malaysian JKR office, and two oldies working there. She enquired about the house we were planning to buy and they gave her a file containing everything we needed to know. It took all of 10 minutes for this!
Now our lawyers are doing the paper work in making sure the title can be transferred to our names. If every thing goes smoothly, we are expecting to move into our new home by August 12! All this usually takes about 2 - 4 weeks and can even be finalised in 48 hours, we were told. This includes money payments and transfer of titles! What speed!
For the time being, we are sleeping on our own mattress but on the floor and not on a bed. Our clothes are still in suitcases and boxes, not in cupboards. Two of our rooms are filled with boxes. Just another 2 weeks and another box opening ceremony. And with all that comes, learning new things like building a fire to keep ourselves warm.
We dread to think of calling the same guys to move our boxes to our new home just 1.5 km away!