There is a weekend promotion at all major car dealers for used vehicles. We saw a few of them including a 1996 Land Rover Discovery but what caught our attention was this 1999 Honda Odessey. After fiecely negotiating, we managed to bring the price down by almost $3,000! Bottom line was $16,500!
And here it is.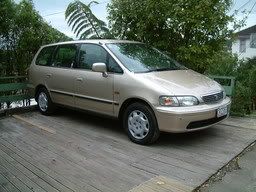 Because we were renting a car then, the dealer gave us a courtesy car for us until our Honda will be ready for us to drive away. We were told that we could get our car on Tuesday. So for now, we are promoting WCD (the car dealer).
Lots of paper work! Warranty, insurance and all that!