I discovered this website on
S & J's Blog
about a tool that graphically illustrates the countries one has visited. I entered mine and here is a graphical representation of the countries I have visited in this world.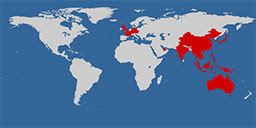 It is only 12% of all the countries on earth! That is only a fraction of what some
others
have been to.
I would be happy to have touched 25% before I leave this world!
Here is the link to this project. Click
here
to take you there. (I know, it sounds weird!).