We have been camping even before we came to New Zealand. I was just amazed at how different the camping experiences are between what we experienced in Malaysia and how it is here in New Zealand.
This was our tent and how we camped in Malaysia. This was taken about 5 years ago and has not changed much.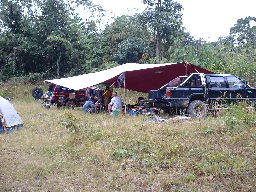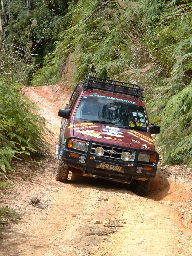 This is our tent in New Zealand and the scene of the campsite here.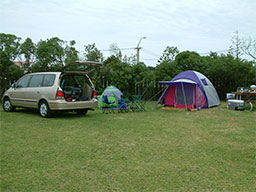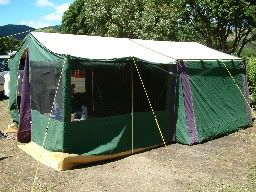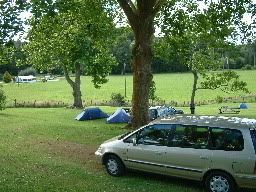 Note the differences in the access roads to the campsites.
The real difference the way I see it is back in Malaysia, campsites are not designated and you need to go and look for them yourself. In order to find one we joined a club. I belonged to the "Lanun Darat" or "Land Pirates" directly translated to English. Once found, most of us 4WD owners keep it a big secret so that no one else knows about it and it will remain clean and pristine for our exclusive use. Facilities are not even basic - it is pretty much non existent and you need to be completely self sufficient for the number of days you intend to camp. The only power source will be the odd car or truck battery used for lighting purposes. And due to its location and access you never went alone! We put up with wild animals and learn to live with them to some extent.
Here in New Zealand, campsites are well established. Most are privately owned and some by the Department of Conservation. A vast majority are located in cities or near cities where you do not need an all terrain vehicle to access. While we keep campsites a secret in Malaysia, campsites are widely publicised here in New Zealand. You can get brochures and maps and all are adequately sign posted. The phrase "self sufficient" here takes on a different meaning. You bring your own barbeque, fridge and stove so that you can cook yourself a meal without having to leave your tent.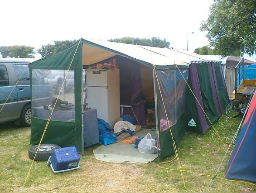 If you are not inclines to be completely "self sufficient", the camp kitchen usually has multiple, refrigerators, freezers, stoves, ovens, microwaves, toasters and some even barbeques. The laundry has washing machines, dryers and ironing boards. The showers have running hot water. Where do you get food? Some campsites sell food and others have huge 24 hour supermarkets at their doorstep.
We went to a shop selling camp gear in Wellington the other day to look for accessories to "upgrade" our camping experience and was surprised to find that you can buy a solar powered hot shower, complete with a shower tent if you wanted. You can get a chemically treated portable toilet to take with you. This really got me - a three power sourced, portable 1.5kg washing machine and dryer. The three power sources used are gas, battery and AC power!
When you pick a campsite, you get to choose between a powered and a non powered site. If you walked by a powered campsite, you will no doubt notice the array of electrical appliances I described above. We have even seen a satellite dish outside a tent. Since the weather here can get pretty "chilly" especially at night even in summer (depending on where you camp), you can even bring your portable heater.
And how do you bring all this stuff? A trailer, of course, which is going to be our next investment!
In short camping in New Zealand is like going on a holiday at a resort. Actually, some of the campgrounds actually call themselves a "holiday resort". The only difference between a real resort and a campsite is that you bring everything yourself and the "resort" merely provides you with a spot and facilities for a small fee. Which is actually not too bad. We had a real good holiday by the sea at a fraction of the cost we would have paid to stay at a "real" beach front holiday resort. Of course our son wanted to bring his TV and Playstation with him but we only had a non powered site and besides, we did not have room even for the fishing rod which I wanted to bring with me. But that is going to change when we have our own trailer!
Would this concept work in Malaysia? A business proposition maybe for someone with a large piece of land and don't know what to do with it!