It was rather strange going back to Malaysia as a foreigner like we did.
After a gruesome 10 hour flight on Malaysia Airlines, I swore never to ever fly MAS again. The service on this particular flight was terrible to say the least. To begin with the food was horrible. We were served Malaysian food on a Malaysian airline but was nothing like what it was supposed to taste like. Next, two toilets on a 777 were closed off because the crew decided to use two of the toilets as rubbish bins. Lastly, the crew could not even speak decent English, given that a majority of Malaysians spoke decent English, albeit with a Malaysian accent. What an image that would portray to foreigners!
Despite the gruelling 10 hours, Ashwini was still all hyped up as the games and movies on board were excellent.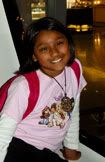 First and foremost, food! We were spoilt for choice. Two weeks was definitely not enough as there were more variety than we had room for in our stomach.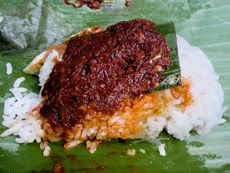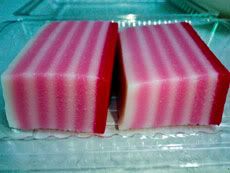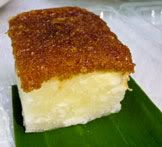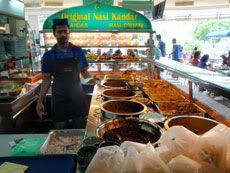 All this only goes well with a tall glass of teh tarik.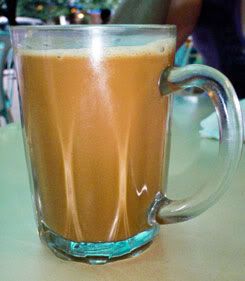 ... or a cup of kopi tarik kau kau kurang manis.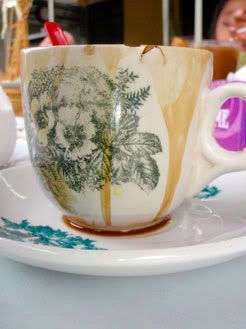 One for the road... we just had to have banana leaf rice with all the frills and eaten with fingers...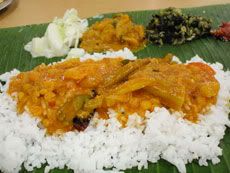 Although Anil's version of eating with fingers was not quite what I had in mind.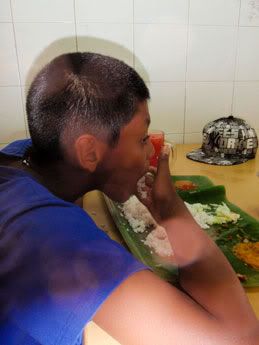 Ashwini decided to use a fork and a spoon, so that she can enjoy her meal.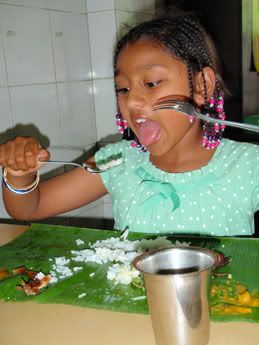 My all time favourite drink which I have yet to find in New Zealand.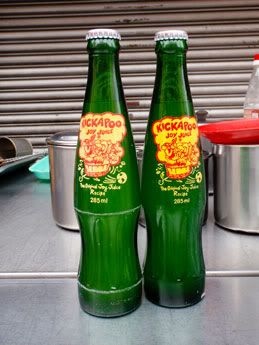 Malaysian roads were fantastic but the problem with Malaysia was the drivers. No one seems to follow road signs, that is when you were able to find signs. A 2 lane street immediately became 4 lanes when speed fell to 40kmph. And when it fell to below 10kmph, you could not recognise a lane, as it was free for all.
I was wondering which part of "No parking" that this particular driver did not understand.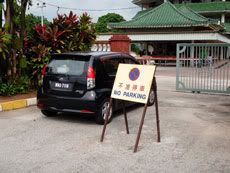 We were trying to find our way to KLCC, a major landmark in KL where the Petronas Twin Towers were located. Signs were visible from quite a distance from the city. However, as we approached the towers closer to the city, the signs were contradicting. One said take a right turn so I kept right but 50m before the actual turn, it said take a left. Then all signs for KLCC suddenly vanished only to reappear after we missed the towers. There were sign boards erected but a nice looking lamp post planted right in front of it. Then some smart Alec planted a tree right in front of the lamp post, making the sign way up front totally not visible.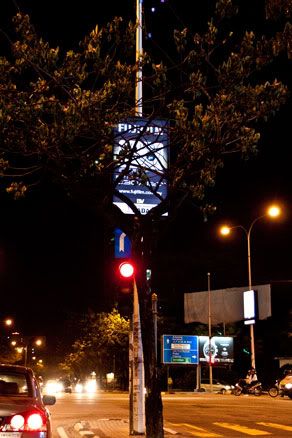 We were Malaysians and had trouble finding our way around. Imagine what a foreigner would feel like driving in KL. At one point, I thought finding my way in Bangkok was a lot easier!
When we approached the towers, it was totally worth the trip, despite getting lost a few times. The imposing towers were fantastic, especially at night. Despite living in Malaysia in the past, we never made it this close to the towers nor have I taken photos of the towers. Father and son had to lie down on the road to get a good shot.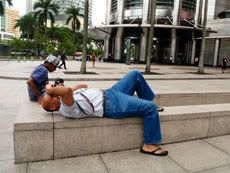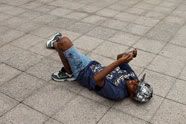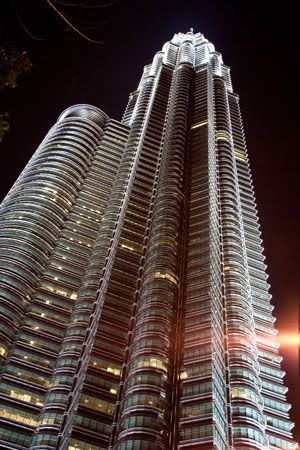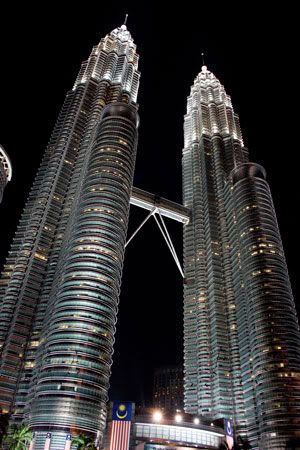 I soon realised that it was not only the signboards on the streets that were confusing. On our way back to New Zealand, I spotted this odd sign inside KLIA (Kuala Lumpur International Airport) where passengers were directed to the MAS Golden Lounge. Guess where it was placed and where it was pointing to? The men's toilet!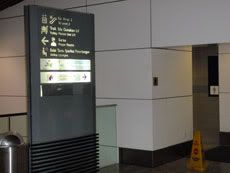 After 15 days in KL and 5 extra kilogram on me, not to mention the bags that was on the brink of being charged for excess baggage, we said farewell to KL.