As the title of this blog says, we had quite a bit of action today.
In the wee hours of the morning in Auckland, a restaurant opposite a cemetery blew up sending glass and furniture across the street.
Early this morning, we heard on the news that a man drove his car into the library in Karori, in the literal sense!
Then there was this motorcyclist who rode off a cliff just out of Wellington.
Then as we were leaving the house for another action, a helicopter and a glide plane crashed mid air just 500 to 600 meters from our home.
After navigating through what we Wellingtonians will call horrendous traffic, we reached the action we were waiting to see. The second largest cruise ship, Queen Victoria, at the Wellington harbour. It was quite a sight, almost bigger then the Westpac Stadium it was anchoring next to. The Interislander ferry almost looked like matchbox replica.
Here Vera and Ashwini posing in front of the cruise liner.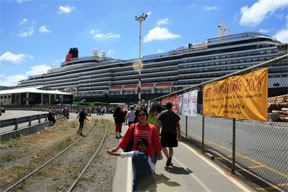 I know its too small to see if this is the real one so, here is a close shot of the ship.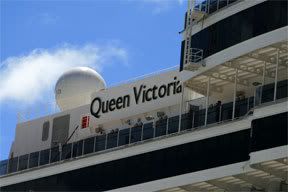 This is quite a day for New Zealand as headlines here don't usually have that many casualties in one day!