As I was looking back at my posts I see that as time goes by, my posts have been further and further apart. The first post almost 3 years ago was almost daily and now, the last post was 4 months ago! There certainly are enough things to write about and share but I guess one tend to get a little lazy over time.
It was time again for our annual holiday. What an adventure this turned out to be! We always wanted to go somewhere we have never been to but when we visited Ohope last year, we really liked the place that we booked it this year as well. Since it was our second time to the same campsite, we decided to spend time doing stuff we did not get a chance to do on our initial trip.
First up, we booked on a fishing trip out to sea. Like 4 four brave fishers (that is the politically correct word to use for more commonly used term: fisherman), we went with our fishing rods, bait and all. Half way out to sea, Ashwini got sea sick, next was Anil and that left us with only two trusted fishers. In 30m of water we were looking for Snapper and the elusive Tuna which every other boat seem to say they were catching. Being beginners all we managed to hook was Mackerels, Tarakihis and a baby Shark! We thought catching the fish was the hard part but soon realised cleaning the damn thing was worse. I smelled like fish for the next 3 days.
Here's the fruit of our labour on the barbie!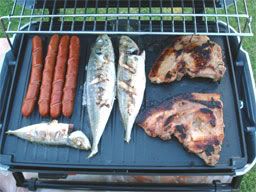 Optiki had its annual Rodeo while we were there and we took the opportunity to see some real "cowboy" stuff that we normally don't get to see back in the city. It was fun, exhilarating and HOT! It was scorching hot as there not a single cloud in the sky. Quite an experience, I must say!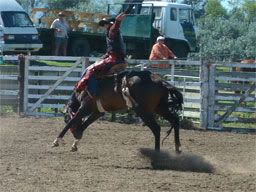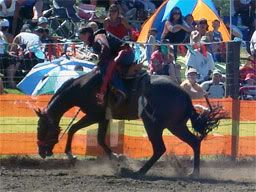 Also nearby is New Zealand's largest mud slide. We were told that the mud was imported from Rotorua, as if that would make it appealing. Just looking at the elevation of the fall and the speed made my blood run cold.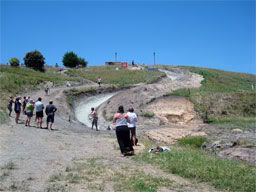 Then my sense of adventure kicked in and decided to join the brave kids! Ended up with bruises and cuts all over but survived. I thought even better than the slide was the "Super Shower" to clean yourself off the mud. A gigantic shower with cold water gushing from the roof at high speed to cleanse you! Man that felt good!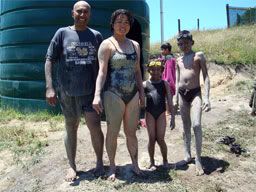 We still had quite a bit of time left on our hands and the weather was on our side. So we decided on venturing into some horse riding - inspired by the rodeo earlier. At the end of the 1 hour ride, my bottom felt like it had been hit by a bull! I wonder how cowboys ride on horses all day!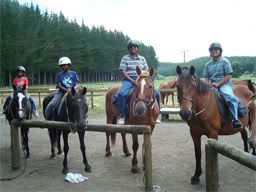 Still taking on the good weather, from land back to sea. Vera and I decided to kayak with dolphins at Whale Island which is about half an hour off shore from Whakatane. Again being green with these stuff, I capsized into freezing water almost immediately after I started paddling. That was refreshing but then found my balance and had a fantastic time kayaking around the island. Did not see any dolphins but was still amazing being able to paddle the 1 metre waves and going into caves.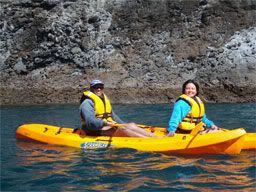 We also took the kids out kayaking but not to Whale Island. We went to the Ohiwa harbour where the water is waist deep, just in case son decides to follow the father's footsteps in checking the water temperature.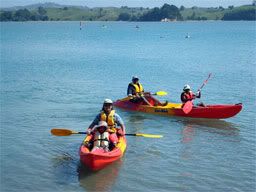 Need to take kayak lessons when we return to Wellington.
Last event of the holiday was taking a look at the Annual Sand Sculpture Competition. It is amazing just looking at some of the sculptures being built and the stuff these pros use.
Sand castles took on a whole new meaning with this one. It was a city in the making complete with clock tower, bridges and moats!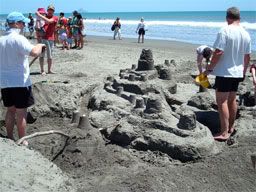 One was trying to replicate a crayfish (also known as lobster) which was huge but not quite as stunning.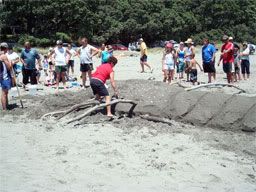 Then there was the imaginative Hedgehog, which we thought was quite interesting. They used pointy grass for the hedge effect on the body.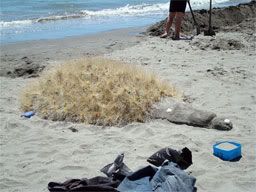 These must be Australians as they were trying to recreate the Sydney Opera House using sand.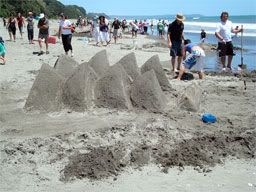 This one was my favourite!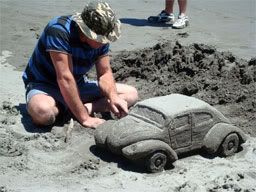 Then there are the watchers and the beachgoers who found the water more interesting than the sand.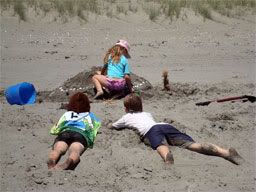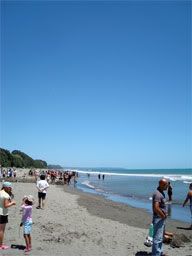 Also during this holiday, Anil discovered his hidden talent!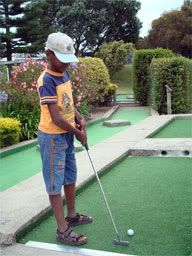 Ashwini couldn't for the life of her understand why golf cannot be played like hockey!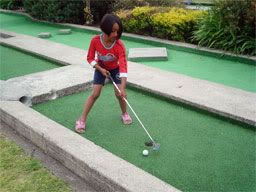 What would camping be if not meeting up with old friends and making new ones!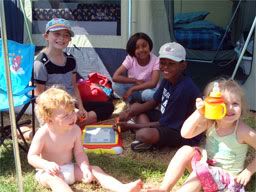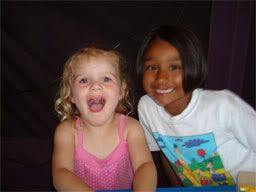 It was time to return home now. I decided to take the East Coast route back home. My trusted GPS suggested that I drive to Napier via Taupo. Yours truly decided to switch the GPS off and follow instincts. Was heading east when I saw a sign suggested a shorter route. Decided to take it and ended up driving over 50km on unsealed farm roads. Scared the hell out of some cattle and sheep. Not sure about the shorter distance but the time taken was about 3 hours longer!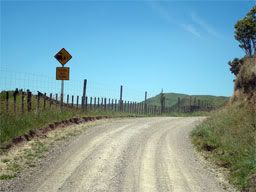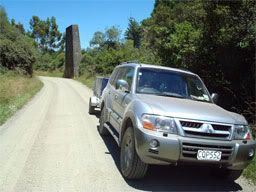 Luckily my Pajero was silver or it would have ended up a different colour. The trailer I was towing at the back had a dark blue cover. When we came out of the dirt track, it was a pale blue and was on the verge of turning grey!